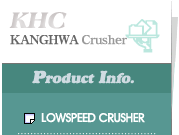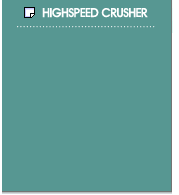 Crushing of large volume within short time
As the Ganghwa Crusher is stronger and more solid, it can
crush large volume within short time.


Retention of a variety of function
The Ganghwa Crusher have a variety of function applicable to
crushing materials whatever type it is.


Prompt separation and simple cleaning
The Ganghwa Crusher can be easily separated for clean and prompt cleaning upon changing into
other color and raw materials.


Regulation of crushing particles by replacement of screen
The Ganghwa Crusher can crush the crushing particles into the required size by replacement of
screen.


Simple movement-advantage in space utilization
As the Ganghwa Crushers do not require any special equipment upon its installation and is easy
to move, it is convenient to use space.


Solid cast body and slight noise
As the Ganghwa Crusher is manufactured solidly with cast 'hopper' as well as cast body, noise
generated during crushing operation is slight.
2.2Kw(3HP)

MODEL

KHC260x330

KHC140x160

KHC170x200

Electrics Supply

380/220V10HPx4P

380/220V2HPx4P

380/220V3HPx4P

MOTOR

7.5Kw

1.5Kw

2.2Kw

Type of Drive

Totally enclased out-panned
type three-phase induction motor.

Totally enclased out-panned
type three-phase induction motor.

Totally enclased out-panned
type three-phase induction motor.

Hopper Die

240mmx340mm

140mmx160mm

170mmx200mm

Rotary Blade

w340 xØ240 x 9BLOOK

w160 xØ140 x 6BLOOK

w200 xØ170 x 6BLOOK

Stationary Blade

2Blades opposite position

2Blades opposite position

2Blades opposite position

Number of Revolution

300~680RPM

300~680RPM

300~680RPM

Crushing Capacity

ABS Screen 10Ø
210~260Kg/HR

ABS Screen 10Ø
50~60Kg/HR

ABSScreen 10Ø
70~110Kg/HR

Machine Weight

800Kg

190Kg

320Kg

Dimension

W600 x L970 x H1,435

W460 x L610 x

H1,000

W550 x L680 x H1,100
3.7Kw(5HP)

5.5Kw(7.5HP)

11Kw(15HP)

MODEL

KHC200x240

KH220x280

KHC270x390

Electrics Supply

380/220V5HPx4P

380/220V7.5HPx4P

380/220V15HPx4P

MOTOR

3.7Kw

5.5Kw

11Kw

Type of Drive

Totally enclased out-panned
type three-phase induction motor.

Totally enclased out-panned
type three-phase induction motor.

Totally enclased out-panned
type three-phase induction motor.

Hopper Die

190mmx240mm

210mmx280mm

260mmx380mm

Rotary Blade

w240 xØ190 x 7BLOOK

w280 xØ210 x 8BLOOK

w380 xØ260 x 9BLOOK

Stationary Blade

2Blades opposite position

2Blades opposite position

2Blades opposite position

Number of Revolution

300~680RPM

300~680RPM

580RPM

Crushing Capacity

ABSScreen 10Ø
120~160Kg/HR

ABSScreen 10Ø
150~200Kg/HR

ABSScreen 10Ø
260~380Kg/HR

Machine Weight

400Kg

690Kg

1,400Kg

Dimension

W620 x L820x H1,200

W520 x L970 x H1,435

W660 x L1,020 x H1,435
15Kw(20HP)

22Kw(30HP)

37Kw(50HP)

MODEL

KHC350x470

KHC30-470x580

KHC50-510x630

Electrics Supply

380/220V20HPx4P

380/220V30HPx4P

380/220V50HPx6P

MOTOR

15Kw

22Kw

37Kw

Type of Drive

Totally enclased out-panned
type three-phase induction motor.

Totally enclased out-panned
type three-phase induction motor.

Totally enclased out-panned
type three-phase induction motor.

Hopper Die

340mmx400mm

430mmx630mm

500mmx720mm

Rotary Blade

w400 xØ340 x 9BLOOK

w630 xØ430 x 9BLOOK

w720 xØ500

Stationary Blade

2Blades opposite position

2Blades opposite position

4Blades opposite position

Number of Revolution

580RPM

580RPM

580RPM

Crushing Capacity

ABSScreen 10Ø
310~450Kg/HR

ABSScreen 10Ø
400~700Kg/HR

ABSScreen 10Ø
700~800Kg/HR

Machine Weight

1,800Kg

2,400Kg

3,950Kg

Dimension

W1,100 x L1,200 x H1,910

W1,250 x L1,400 x H1,975

W2,270 x L2,660x H3,200
55Kw(75HP)

75Kw(100HP)

MODEL

KHC75-500x850

KHC100-600x1000

Electrics Supply

380/220V75HPx4P

380/220V100HPx6P

MOTOR

55Kw

75Kw

Type of Drive

Totally enclased out-panned
type three-phase induction motor.

Totally enclased out-panned
type three-phase induction motor.

Hopper Die

500mmx850mm

500mmx850mm

Rotary Blade

w850 xØ500

w1,000 xØ600

Stationary Blade

4Blades opposite position

4Blades opposite position

Number of Revolution

580RPM

580RPM

Crushing Capacity

ABSScreen 10Ø
500~600Kg/HR

ABSScreen 10Ø
600~700Kg/HR

Machine Weight

6,000Kg

7,000Kg

Dimension

W2,100 x L2,700x H3,100

W2,100 x L2,700x H3,100